I spend much of my time online on Pinterest. I love looking at new trends in home decor, and particularly styles within an arms reach. I appreciate home updates well done! The home at 358 Willow Ridge in the Kensington neighborhood in northern Davidson County LITERALLY has every Pinterest trend showcased in some form!
We are so excited to bring this home to the market that has such little inventory for buyers needing more than a standard home in a standard neighborhood. This home is truly a prime example of craftsmanship preserved.
Hygge, pronounced "hoo-ga," is the Danish term for living simply, and was proclaimed as a "trend for 2017". Although, much of this can be attributed to the excellent style of the homeowners, one visit to the home evokes a feeling of peace, and simplicity. The soaring ceilings of the great room may trick the eye, but I find it hard to feel cluttered, even if the floor was filled with toys!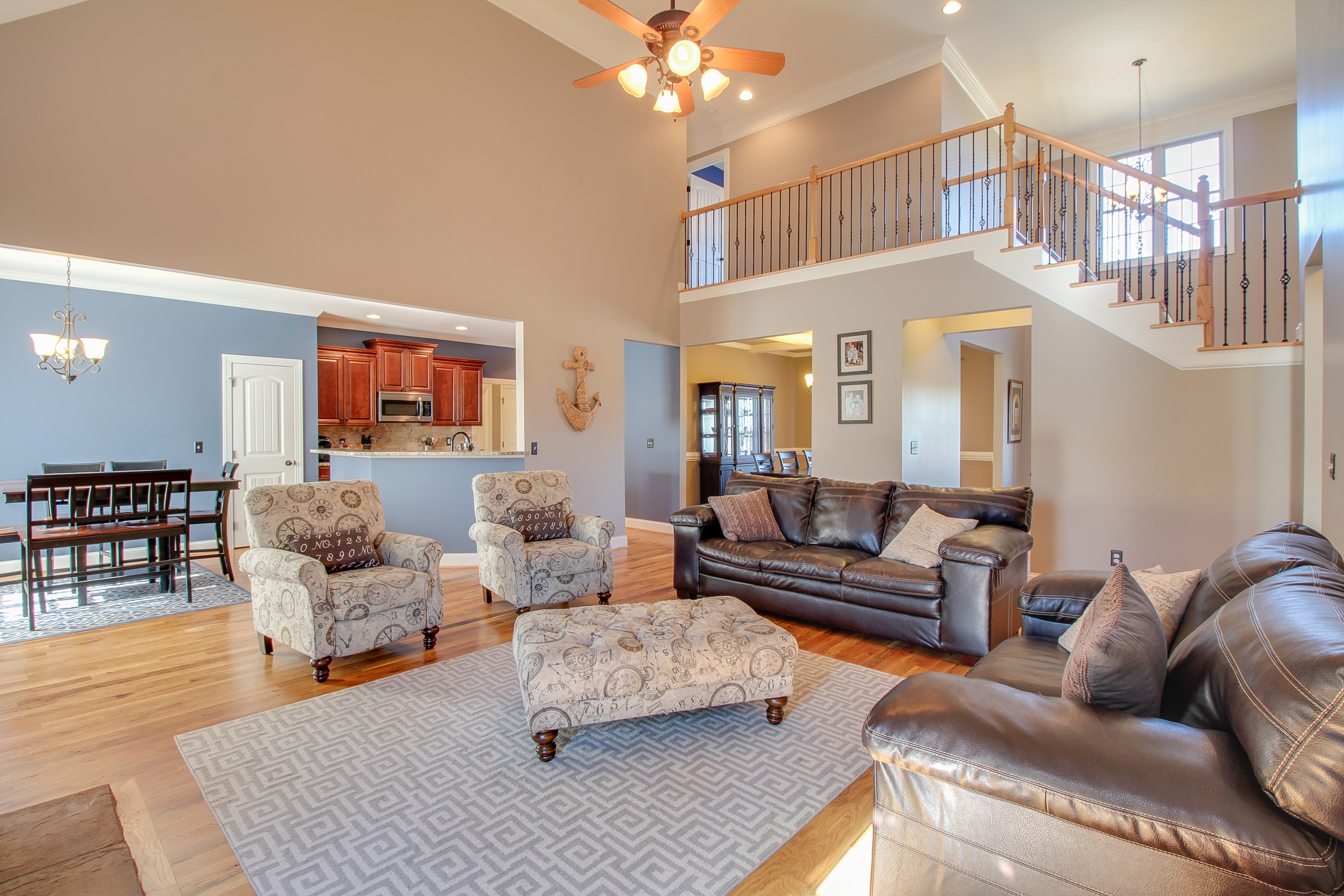 Although, this home was built in 2015, you won't find any builder standard paint colors here! Pinterest says that, "Clean white minimalism is slowly being surpassed by moody navys and deep blues. The trend has seen a 80% increase this year." Lucky you can be ahead of the game, and move in ready with sporadic pops of blue colors the homeowner chose (in addition to greige neutrals, never fear!).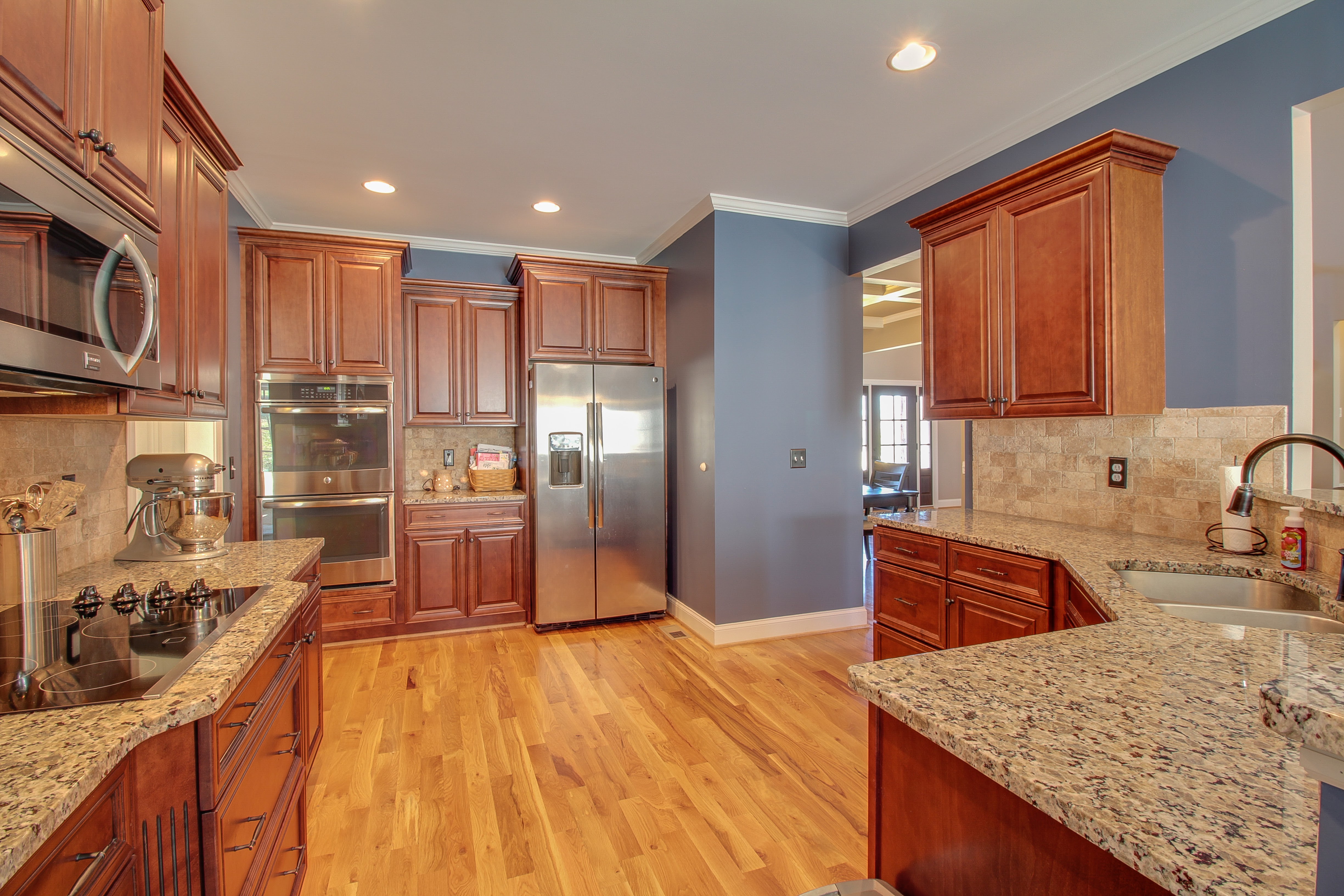 Something about the blue that is featured in the kitchen makes me expect to smell a spicey fragrance, and forces my mind to wander. It allows the cinnamon color of cabinetry to be contrasted without competition. The double ovens, which are truly a showpiece in themselves, spare no expense.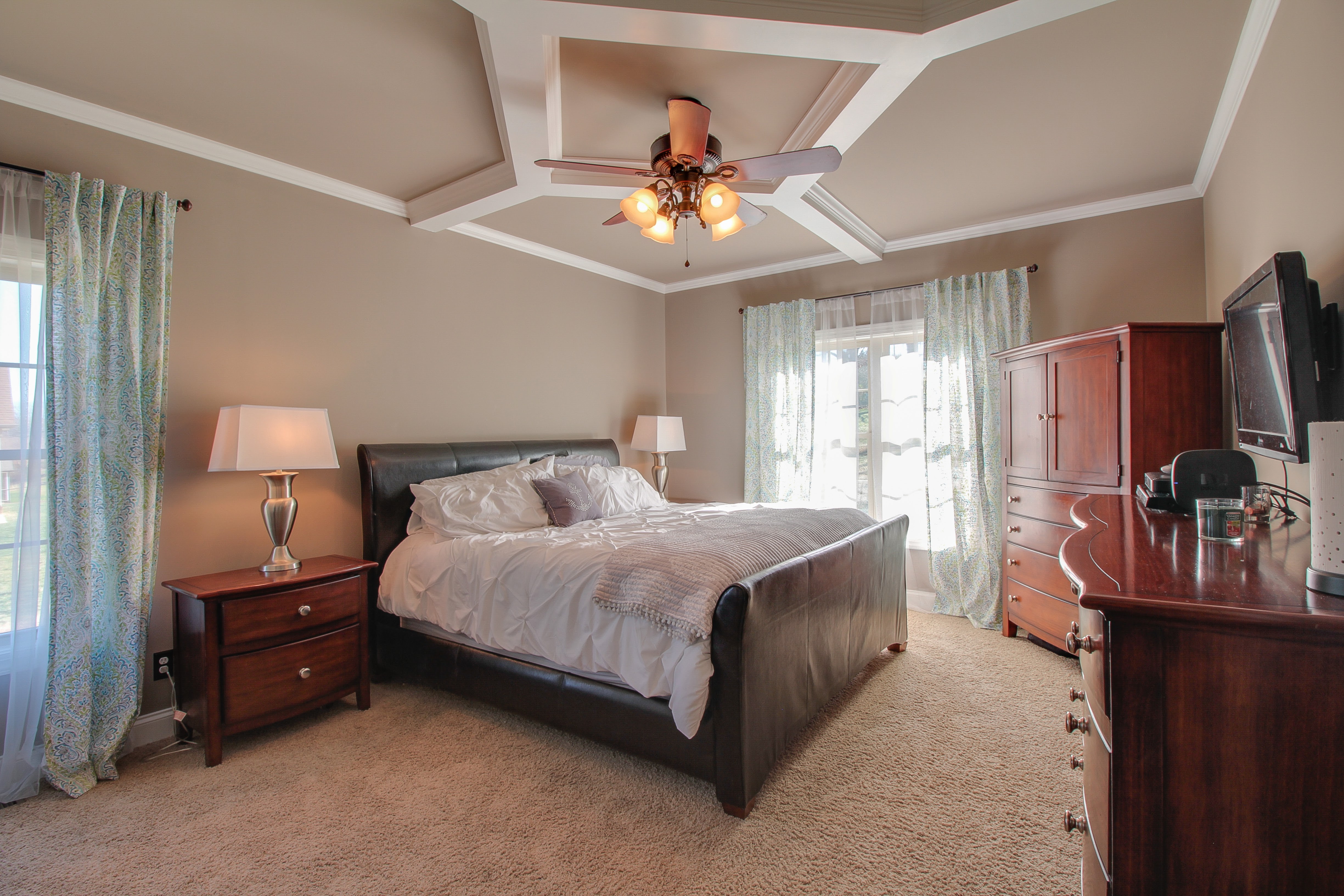 The sellers of the home have enjoyed so many memories in this spacious back yard! There is a home to include your grill, and definitely space to expand into an outdoor kitchen. A screened in back porch is a necessity for home buyers, both young and old! Enjoying the outside without being exposed to the elements just feels luxurious. Being able to be a part of a backyard football game without having to be in the sun may be a sport even I could enjoy!
A jack and jill bathroom with the granite countertop allows individual space but with a compromise. The upstairs bedrooms have the privacy that aging children yearn for, and a sense of independence that can't be purchased.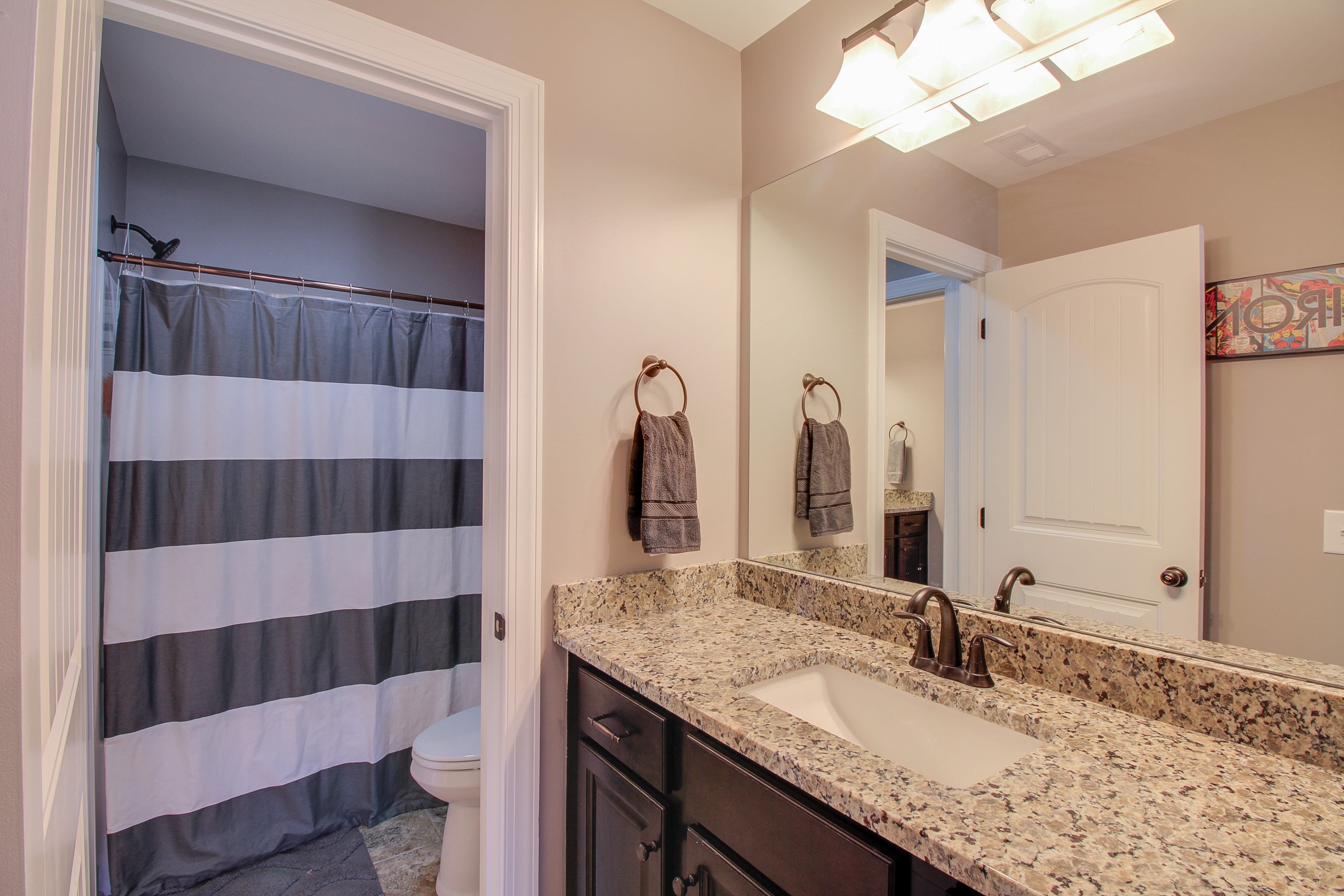 Some families have the need to open their doors and allow an aging parent to live with them on the same level. This house plan allows blended families to expand their ability to take care of others under the same roof, which is important to so many. There are 4 bedrooms, and two bonus rooms, which allow for an office space as well as a game room- on opposite ends of the house!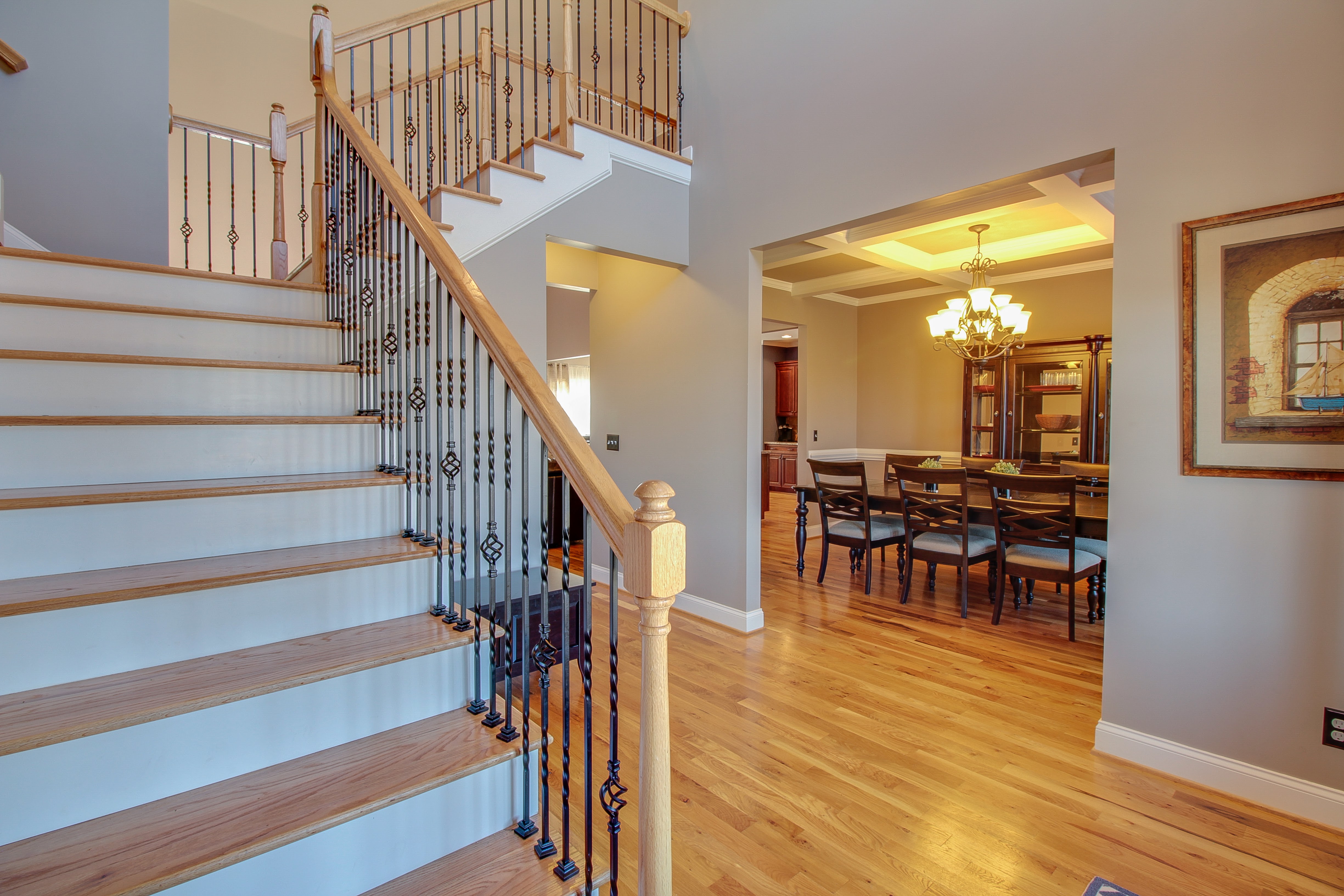 I could go on and on about the catwalk that will be the backdrop for many formal pictures when gathering occur at the home. I could speak VOLUMES about the unique coffered ceilings that are trademark for the builder (Robert Winslow of Pro Built Homes) and ultimately sold the sellers on the home design.
The convenience of the additional concrete poured for the additional drivers to park for years to come is a necessity. Storage for decorations goes on the length of the house, and who has too much storage!
In conclusion, I encourage you to contact us to view the home. Inventory is at such a low right now, you may not need to spend any money or do anything to get your home sold. We are here to help you through the transitions that life calls for, and if space is needed, this is the home for you!
Elementary School: Friedberg
Middle School: Oak Grove
High School: Oak Grove beginning Fall 2017